RIT Kosovo's ICM Week: Celebrating Diversity, Resilience, and Community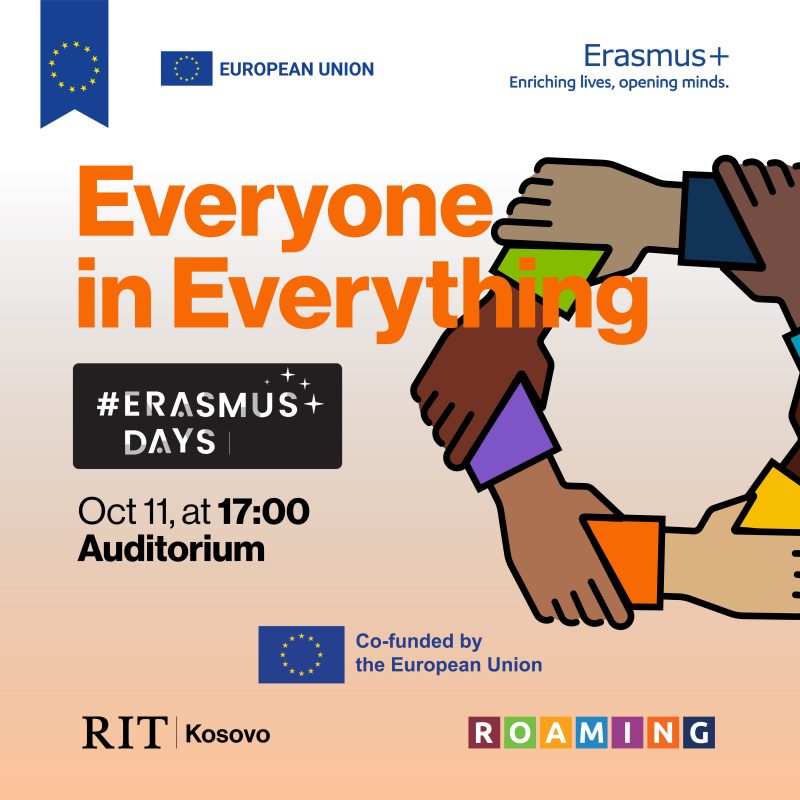 Prishtina, Kosovo – October 13, 2023
RIT Kosovo, one of the partners of the ROAMING project, during the International Credit Mobility (ICM) Week left a lasting impact on students and faculty alike with the four events organized in its premises.
Among other events organized by RIT Kosovo[]  the following four encompassed a diverse range of themes and provided an enriching experience for all participants.
Cultural Connections Over Lunch Event
The ICM Week kicked off with the "Cultural Connections Over Lunch" event, where international freshman students at RIT Kosovo engaged in a thought-provoking talk and meaningful connections. The event featured various activities and presentations from departments across RIT Kosovo, helping students immerse themselves in the academic and cultural experience.
Diversity and Inclusion Open Discussion
Diversity and inclusion were at the forefront during the "Diversity and Inclusion Open Discussion" event. Consortium partners shared their best practices and valuable lessons learned on how to ensure the active participation of a diverse range of students and staff in various programs. Brikena Avdyli, expert on Diversity and inclusion and a faculty from RIT Kosovo played a pivotal role in facilitating this important discussion.
Journey of Resilience Talk
Arbias Llolluni, an RIT Kosovo alumnus now working with the renowned company TikTok, delivered an inspiring "Journey of Resilience Talk." Llolluni engaged with RIT Kosovo students, shedding light on the breakthroughs in technology and their profound impact on both public and private development. His journey exemplified the endless possibilities that await RIT Kosovo students as they embark on their own paths.
Everyone in Everything Event
The grand finale of the ICM Week at RIT Kosovo was the "Everyone in Everything" event, which brought together an array of stakeholders within the RIT Kosovo community. The event was graced by the presence of Mr. Perparim Rama, the Mayor of Prishtina. It showcased a series of presentations on four capacity-building projects, including @STEFORA, @roaming.erasmus, @webjouproject, and @SIADHP. The event also featured engaging discussions and personal testimonials from partner institutions such as @linnaeusuniversity and @kulogos, as well as students who had embarked on exchange semesters @hogeschoolwindesheim, with Edona Lubovci sharing her transformative journey. Erasmus alumni, current participants, and faculty members added their voices to the conversation, providing valuable insights into the Erasmus+ projects and their profound impact.
In addition, RIT Kosovo attended and co-organized a series of other joint events chaired by partner institutions. Erasmus Office in Kosova organized a cluster meeting with higher education institutions where RIT Kosovo faculty provided their insights on the theme of social inclusion. Kolegji Universitar Logos chaired a series of info sessions to students, staff and faculty in terms of mobilities and networking opportunities.
RIT Kosovo's involvement in the ICM Week not only showcased the institution's commitment to fostering diversity, inclusion, and global connections but also provided a platform for students and faculty to engage with these critical themes.
These events served as a testament to RIT Kosovo's dedication to excellence in education, community engagement, and the promotion of cultural diversity. The ICM Week was a resounding success, thanks to the exceptional contributions from RIT Kosovo and its commitment to enriching the educational experience of its students.